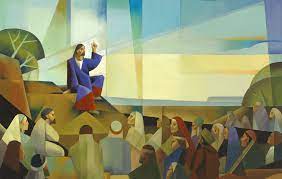 Mass Schedule
Saturday
5:00pm – English Vigil Mass
Sunday
8:00am – English Mass
10:00am – English Mass
12:30pm – Spanish Mass
Weekdays
Tue-Fri: 12:15pm – English Mass
Wed: 6:30pm – Spanish Mass
Adoration
1st Saturday of the Month from
4:00-4:45 pm; Fridays from 10:00 am
to 3:00 pm, followed by Divine Mercy Chaplet
Gospel for Sunday, January 29
When Jesus saw the crowds, he went up the mountain,
and after he had sat down, his disciples came to him.
He began to teach them, saying:
"Blessed are the poor in spirit,
for theirs is the kingdom of heaven.
Blessed are they who mourn,
for they will be comforted.
Blessed are the meek,
for they will inherit the land.
Blessed are they who hunger and thirst for righteousness,
for they will be satisfied.
Blessed are the merciful,
for they will be shown mercy.
Blessed are the clean of heart,
for they will see God.
Blessed are the peacemakers,
for they will be called children of God.
Blessed are they who are persecuted for the sake of righteousness,
for theirs is the kingdom of heaven.
Blessed are you when they insult you and persecute you
and utter every kind of evil against you falsely because of me.
Rejoice and be glad,
for your reward will be great in heaven."
Current Events
---
Words from Fabio

Reflection: The mountain sermon (Sermon of the Mountain) is considered the very heart of the gospel and therefore of Christianity. That's why on this day I invite you to read it calmly, little by little, once or as many times as possible and meditate on it in your heart. You will realize that the words of Jesus are authentically living water or words of life that give encouragement and hope to everyone who meditates and carries them at all times in their hearts. Let's recognize that we are blessed in many things!

For more words from Father Fabio on Deacon Kirk Broom and his family, please click on Weekly Bulletin link above, and then click on Bulletin Insert 1-29-23.

Congratulations to Deacon Kirk Broom

Sunday, February 5th after the 8:00 Mass and 10:00 Mass: Please join us for donuts and coffee in celebrating our newly ordained deacon for the Archdiocese of Atlanta! Please continue to pray for Kirk and his wife Julie as they begin their next chapter in service of
our parish and spreading the Gospel to our community.

Arimatheans Need You!

Have you been wanting to be part of a ministry here at St. Paul's?
Arimatheans are caring parishioners who attend Funerals and Memorial Masses as representatives of the faith community. With each funeral mass, Arimatheans can do their small part in comforting a grieving family in the example of their namesake, Joseph of Arimathea, who must have comforted Mary with his care of the body of Jesus. Arimetheans are part of the Bereavement ministry. By attending funeral Masses and assisting with receptions we are supporting the family. After all, their deceased loved one is one of God's children; therefore our brother or sister in Christ. If you want to be part of and are able to attend the funeral Mass of a parishioner and would like to be notified of funeral Masses, please send your email address to Jan Thomas at jimandjanthomas@gmail.com or call 706-318-9569




Time for Chili Dinner

Knights of Columbus
Chili Dinner
Saturday, February 4th after the 5pm mass
Adults :$5.00 Children under 5 free
Bring your favorite chili to share and your admission is free!
Come on out and enjoy dinner, music and some great fellowship!

Have You Moved?

Do you need to submit a change of address?
Please help us reduce cost of return mail by submitting a change of address by contacting the office with your new address or send an email to: cdelgado@stpaulcleveland.com

Words To Consider…

It has been a long-standing tradition at St. Paul the Apostle Church to provide a reception for any parishioner who requests it for their deceased loved one after the Mass.  Meat and cheese platters are ordered as well as rolls, which are paid for by the church.  Paper products and drinks are provided by the church.  The women of the church provide side dishes and desserts, as well as help set up, serve and clean up.  Leftovers are sent home with the family.  

We are all called on to serve in some way, and this is your opportunity to help your parish families. When asked, please try to provide a side dish, and/or assist at the reception. The families are so very grateful, as your family will be when it's your turn.
More Info
---
Confessions
Saturdays, 4:00pm or by appointment
---
Secure Online Giving
---
Daily Readings
---
Catholic Online
Catholic.net
Vatican
Archdiocese of Atlanta