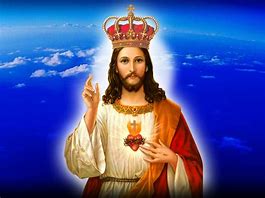 Mass Schedule
Saturday
5:00pm – English Vigil Mass
Sunday
8:00am – English Mass
10:00am – English Mass
12:30pm – Spanish Mass
Weekdays
Tue-Fri: 12:15pm – English Mass
Wed: 6:30pm – Spanish Mass
Adoration
1st Saturday of the Month from
4:00-4:45 pm; Fridays from 10:00 am
to 3:00 pm, followed by Divine Mercy Chaplet
Gospel for November 20
The Solemnity of Our Lord Jesus Christ, King of the Universe
The rulers sneered at Jesus and said,
"He saved others, let him save himself
if he is the chosen one, the Christ of God."
Even the soldiers jeered at him.
As they approached to offer him wine they called out,
"If you are King of the Jews, save yourself."
Above him there was an inscription that read,
"This is the King of the Jews."
Now one of the criminals hanging there reviled Jesus, saying,
"Are you not the Christ?
Save yourself and us."
The other, however, rebuking him, said in reply,
"Have you no fear of God,
for you are subject to the same condemnation?
And indeed, we have been condemned justly,
for the sentence we received corresponds to our crimes,
but this man has done nothing criminal."
Then he said,
"Jesus, remember me when you come into your kingdom."
He replied to him,
"Amen, I say to you,
today you will be with me in Paradise."
Current Events
---
Words from Fabio

Solemnity of Christ the King: Pope Pius XI, in 1925, in the Holy Year, published the encyclical Quas Primas, in which he highlighted, the royalty of Christ, thus instituting the Solemnity of Christ the King of the Universe; seeking to combat a current of secularism that wanted to take God and Jesus Christ out of our lives. With the reform of the liturgical calendar, ordered by the Second Vatican Council, it was ordered that this Solemnity be celebrated at the end of the liturgical year. Where everything, part of Jesus Christ and everything culminates in Jesus Christ.

The reign of Jesus is marked by a style opposite to the forms of old and new societies. Proof of this is that the reign of Jesus is characterized by its transparency, where nothing is hidden; everything is clear and is revealed in the light of the Gospel; opposite case to the kings of this world where many intend to hide realities. It is coherent, that is, words and actions are connected with the reality of a people who have needs and a God who provides in the face of these difficulties; he put it to many kings, who only seek power and money. Finally, the reign of Jesus always seeks and will seek that all of us who are part of this earthly kingdom, can move on to enjoy the heavenly kingdom; different from the kings of this world, who cannot offer any of their followers a place in eternity with God; since that only belongs to God. You and I have the power and ability to choose between Jesus Christ, King of the Universe and those kings that the world provides, we both know what each one can offer and give.

Give Thanks!

Next Thursday, November 24 at 10:00am, I want to invite you as a family and community to meet around the Eucharist and thank God for so many beautiful things he has given us this year. That's why I want to ask you to arrive early at the Church with a thanks-giving note and deposit it in a basket that will be in front of the altar. If you want to bring a basket with your Thanksgiving groceries that will then be consumed at home, you can bring it to be blessed at the end of the Mass. (Please don't bring a "LIVE" turkey.) Let's remember that gratitude is a feeling that has no end, and especially when it comes to thanking God for being as it is with each of us. I wish you with all my heart a happy Thanksgiving. Many blessings for the whole family.

Bakery Goods Sale

FROM THE MONKS AT THE MONASTERY OF THE HOLY SPIRIT
Your purchase will benefit the Monastery and Youth Ministry in the Mountains

Orders may be placed November 14 – 28. Pick up after the Masses December 17-18
There are several ways to place your order: complete the form in the back of the church and give your form to Mary Ruth Jones after any of the Masses of November 19 & 20
or email Mary Ruth with your order by November 28. For details on ordering delicious fruitcake, fudge, biscotti, honey and coffee, please see the bulletin insert for 11/13/22 in the Weekly Bulletin link above.
*Payment is due in advance. Make checks payable to St. Paul, (put YMM in the memo line). For more information, contact Mary Ruth at 706-892-4437 or email at: maryruthjones8@gmail.com

Coaster Rides & Campfire Planned

YOUTH MINISTRY!!

Tentatively planning our next event on Friday, November 25th.  We would meet in Helen to ride the Mountain Coaster, walk the Hardman Trail, and head back to church for a campfire.  There are 16 free tickets to the Mountain Coaster, so let Mary Ruth know if you would like to take the ride!  If we have more than 16 riders, we will just ask for 3-5 dollars from everyone to help cover the other tickets.  It costs $16 per person, so we are getting a great deal!  Call or text Mary Ruth, and let her know you're going to attend this fun event! 706-892-4438

Helping Father Jimmy in Africa

From the bottom of my heart, I want to thank those of you who have participated and know that your contribution will help our children in Kenya have a wonderful Christmas dinner and gift. For those who would still like to participate, please contribute by November 30. Please remember to place your cash or check in an envelope and write the word "AFRICA" in the memo or note area. I know that all those children and their families will have all of you in their prayers.

Christmas Giving Tree

OUTREACH MINISTRY
We invite parishioners who need assistance with Christmas gifts for their children, or know of a family in need, to take an application form with them. Please provide the child's information and return the form by Sunday, November 20th. A box will be placed in the Narthex. We also need volunteers to assist us with preparing the angels and handing out the gifts. Please contact Antonella Skinner at 954-330-8821 if you would like to assist. May the Baby Jesus be our light this Advent and Christmas Season, and always!
More Info
---
Confessions
Saturdays, 4:00pm or by appointment
---
Secure Online Giving
---
Daily Readings
---
Catholic Online
Catholic.net
Vatican
Archdiocese of Atlanta